COVID-19 and reopening our stores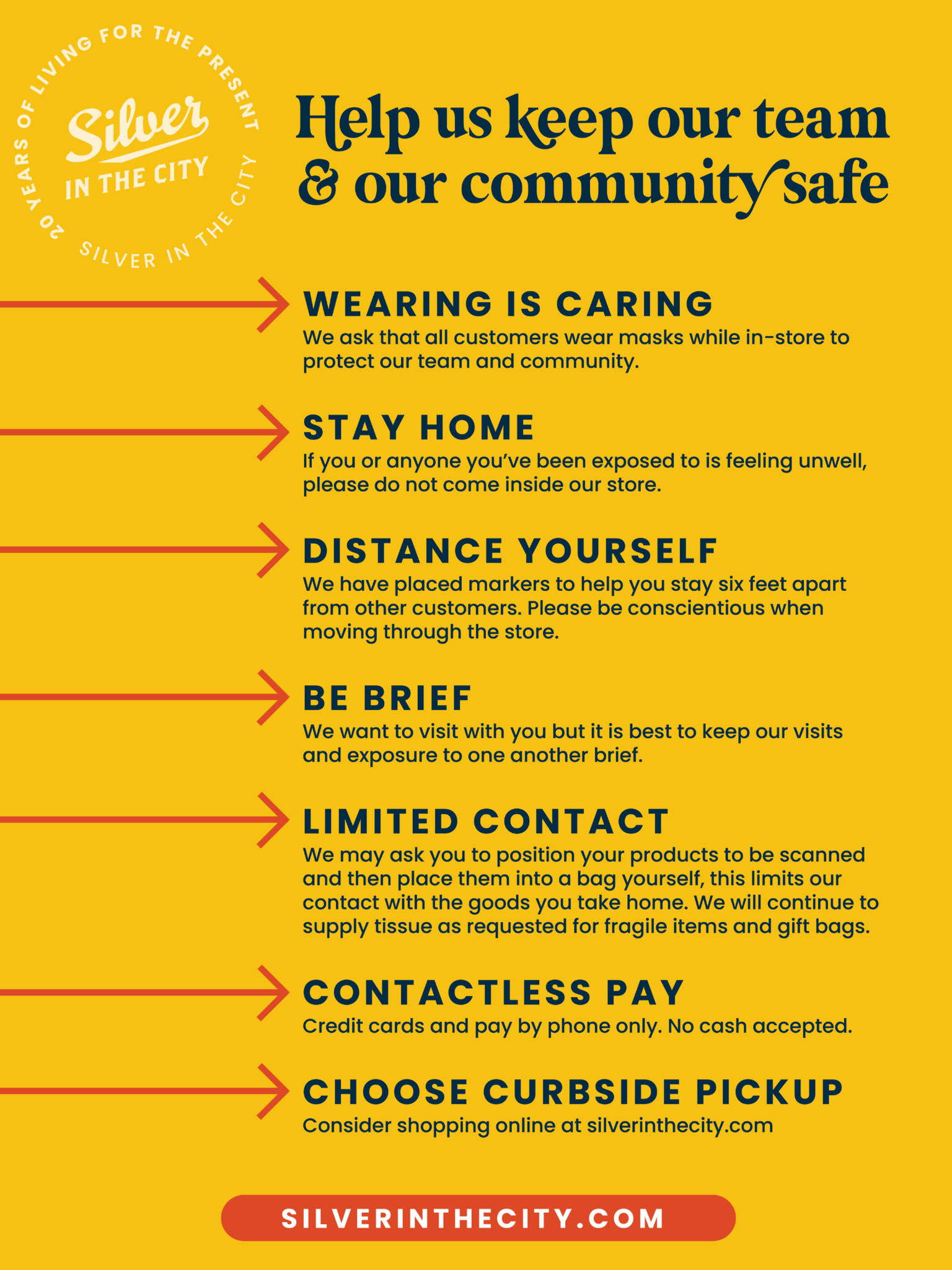 We care deeply about our employees, customers and community.  Therefore we are taking the following actions to help stop the spread of COVID-19 as we work to reopen our stores:
Employees will be screened at the start of each shift to ensure they do not have a fever nor have they been in close contact with anyone with a known illness.

Employees will be reminded to properly wash hands and use hand sanitizer frequently throughout their shifts.

Employees will be wearing face masks while on the sales floor and may wear gloves while interacting with customers and merchandise.

We have glass dividers installed at our checkout counters

Hand sanitizer is available at the entrance of our store, the checkout counter and jewelry department to encourage customers to sanitize before and after contact with product and credit card terminals.

We are wiping down high contact areas more frequently with disinfectant




We are not accepting cash payments

We will incorporate low-contact checkout: asking customer to set merchandise on the counter so we can enter codes then asking customers to place items in bags (provided).  We will not be removing price tags except on jewelry which will continue to be boxed and ribboned by staff

Customers:
We will only allow 30 customers in the store at a time.

Maintain Social Distancing from customers and staff. Please follow the marks on the floor to move about while maintaining the appropriate distance.

We are requiring customers to wear masks while in the store.

We are asking customers to not enter in large groups.

We are asking that customers do not enter the store if they have been unwell or in contact with someone not feeling well.

We encourage customers to continue placing orders online for curbside pick-up, delivery or shipping.

Be Brief - this is not the time for lengthy conversations and browsing - we miss you too, but we want to be sure our store environment remains safe for our team and our community.  The better we do at following these rules, the sooner we will be able to loosen them.
We want to extend our deep gratitude to our customers for shopping with us online since March 17.  Your purchases have enabled us to keep operating through the stay-at-home order and will continue to help sustain us through the months ahead as in-store sales slowly return.
Thank you for taking the time to read and follow our guidelines for re-opening.  Interacting with you is what we love about working at Silver in the City and we want to be sure we are keeping our amazing community of team members and customers safe.
Both locations are currently open Monday - Saturday from 10a-8p and Sundays 11a-7p.