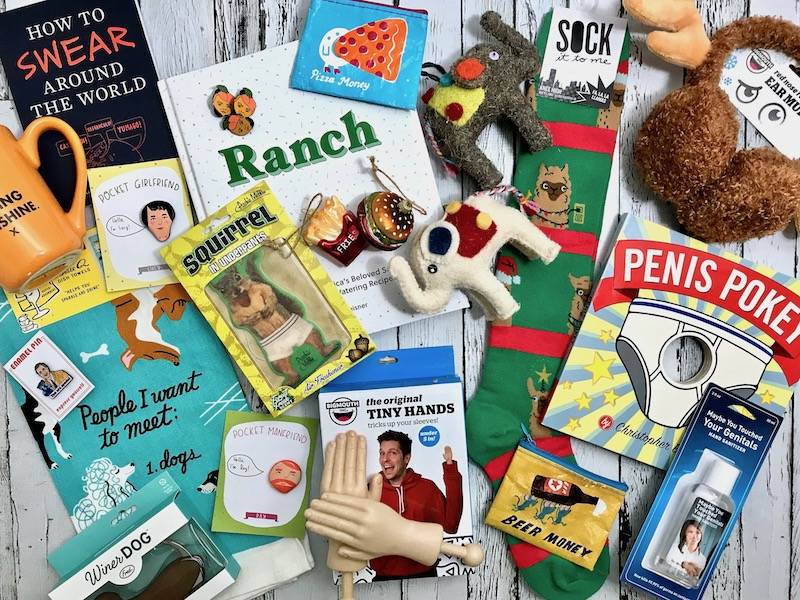 Looking for that one gift that will lead to chaos at the gift exchange? Check out these zany picks for fun and frivolity!
 
Penis pokey is always a hit for those looking to add a touch of humor to the party. Add some clever "Maybe You Touched Your Genitals" hand sanitizer to create a playful gift. To play off the handsanitizer, throw in some tiny hands to applaud the creative gift exchange ideas! If you are aiming more towards a holiday themed gift, the reindeer ear muffs are exactly what you need. They are uber soft and fit snuggly as to not fall off while you're in line waiting to see Santa or cut down the holiday tree. Throw in a pair of knee-high Fa La La Llama socks that add a little extra holiday cheer and warmth for the upcoming cold winter days. For all of those winter hibernators out there, the ranch dressing cookbook has 60-mouthwatering recipes to satisfy those ranch cravings!! To make a memorable gift set, add some fast food glass ornaments that look so realistic you could eat them (please don't eat them)! Name a more iconic combo of beer, pizza, and ranch. Our beer and pizza money coin pouches are another absolutely cute little add on for white elephant gifts that can even hold a silver in the city gift card! These charming and creative gifts will have everyone trying to snatch up your gift at the exchange! Pair these recycled coin purses with a pocket manfriend or girlfriend (available in-store only) for an added dig to those single friends. 

Know any people that can't hold their tongue? Gift the How to Swear Around the World book and ray of sunshine mug for those potty mouths! Who knows, maybe these sly gifts will have them cursing in another language! To create another matchy matchy gift collection, we have added the snarky dish towel that most of us can agree upon, the only people we want to meet are dogs too! Create a cohesive gift with the winer dog wine opener, because we know that someone will forget to bring a wine opener to the holiday party! 

We definitely look to add a pun anywhere we can, so we've added a white and gray felt elephant ornament to our collection for all of those clever and punny friends looking to make a statement. Also, don't forget to bring a random and useful gift for the host! Add the squirrel in underpants air freshener (as a gift topper) or a Mister Rogers enamel pin to your list! They are perfect last minute ideas and add a little extra thought to your white elephant gift exchange.