Elijah Stephen Pursues His Dreams
Elijah Stephen is a painter, designer, drum circle instructor and activist from Indianapolis who has dedicated himself to the purpose of creating and helping others to create. His goal is to encourage people to "Create the change that you want to see, EQUALITY." For him, equality is defined as a component of self-expression. "Everyone has a unique perspective. Equality is being yourself." His work with his business, 22 Starving Artist, encourages people to be exactly who they are.
Kristin, owner of Silver in the City, and Elijah met while participating in a panel discussion at the Indiana State Museum, discussing the exhibit "Response: Images and Sounds of a Movement" featuring social justice murals created during the Black Lives Matter protests in June 2020. The connection they made and the conversation they had about art and commerce were nothing short of inspirational. During the discussion, Kristin vividly remembers Elijah mentioning how "art is a form of communication and merchandise being a form of art that communicates" and using his line of Equality apparel as an example. Coming from years of experience being a retailer that speaks up for what we believe in, Kristin instantly connected with Elijah's point of view. 
Motivated by creating art and helping others create art, 22 Starving Artist was started as an Etsy shop before expanding into a website of various kinds of creativity, artwork, and a platform to launch more artists into the public eye. Their mission statement captures the passion and drive behind the work.
The starving artist has no choice but to create.

We all have an insatiable desire to create, grow and change.

We believe each individual creates their own reality.

Our products and services enrich physical, mental and emotional health.  

With the drive and dedication of a starving artist our mission is to create quality products and services that evoke a sense of pride and involvement in our movement of freedom, creativity and expression.

We believe in FREEDOM.

We believe in CHOICE.

We are BOLD.

We are creatives who choose to inspire and unite people through the power of creativity and expression.

 
Silver in the City is proud to sell 22 Starving Artist  "equality" clothing line because of the shared values in what it represents, the quality of the product, and the commitment 22 Starving Artist has to the community. This line was made to spread awareness and a message that gets more people out in the world to think about, ask about and talk about what equality means to them. It celebrates individuality and invites everyone who sees it to participate in the acceptance of others. But it doesn't just stop there. A portion of the proceeds from the shirts will go into the Silver Linings Fund, a philanthropic arm of Silver in the City that provides micro-grants to small grassroots organizations that do the work to directly address issues of racial disparity in our community. A grant process Elijah generously lent his time and insight towards, in helping judge and award our first-ever Silver Linings grant recipients: Flanner Farms, The Riley Center, Grassroots Projects, Deborah's Daughters (site coming soon), Mother's Love Garden, Growing Places Indy, Little Timmy Project, Women 4 Change.
He and Kristin agree that the Big Issues of inequality that have brought them together in this partnership are sad and hard, but they've been inspired to find ways to make a difference.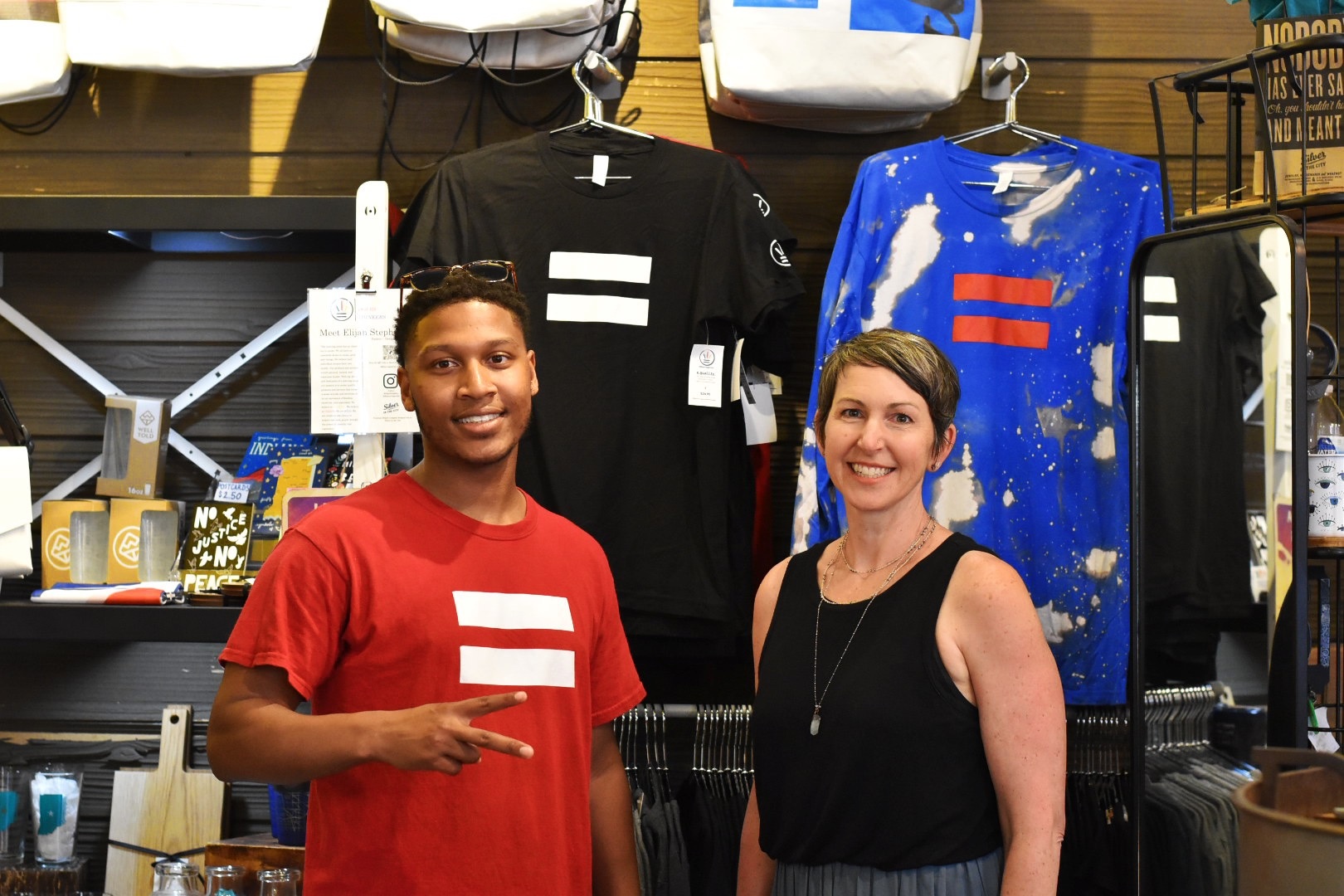 Check out all of our products that support the Silver Lining Fund.