The Mass Ave Midnight Shopper is almost here - find out what you need to know about this year's event, including how to reserve shopping times at Silver in the City!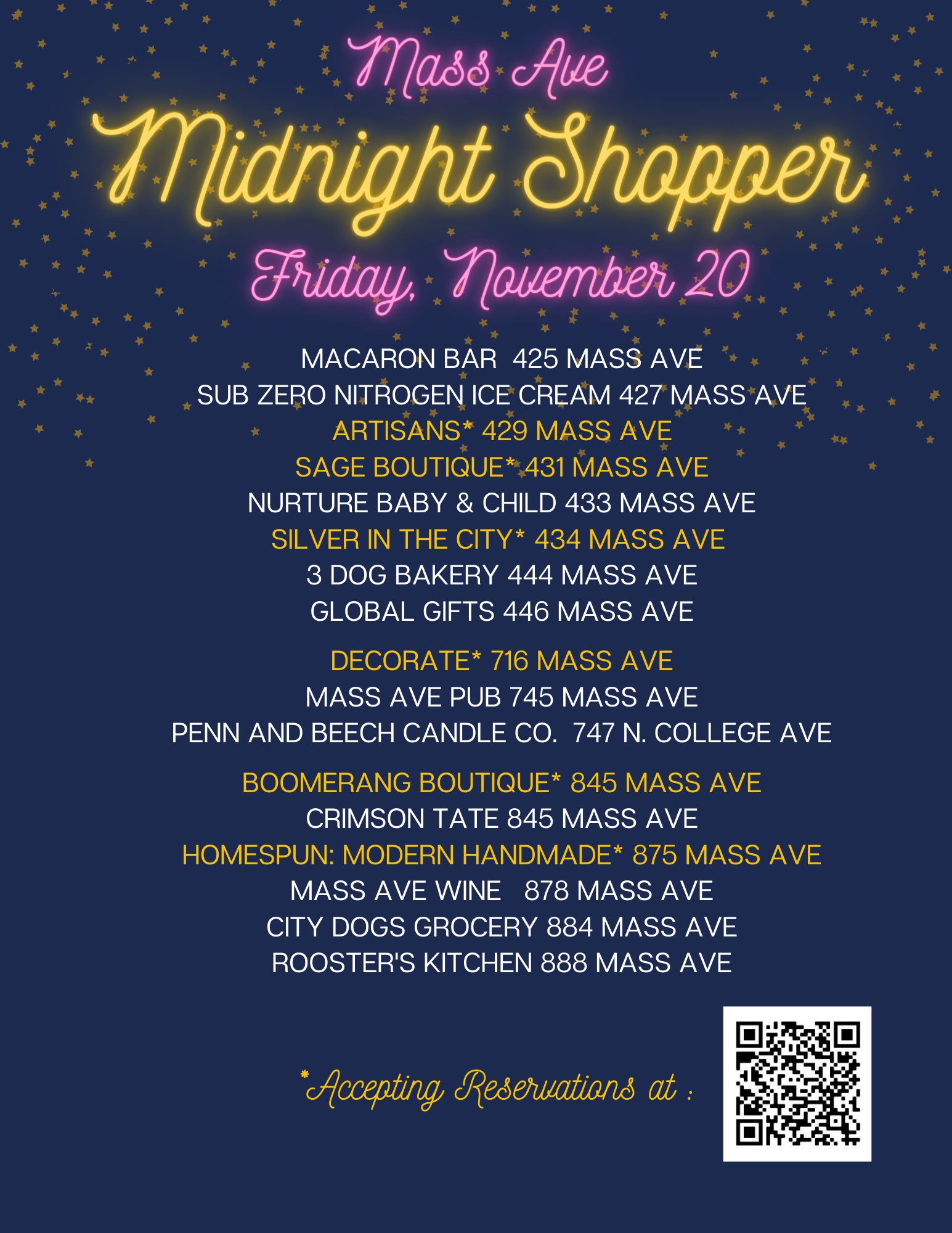 I can't believe we are celebrating 20 years of fun late night shopping on Mass Ave this November. This year's Midnight Shopper might look a bit different than years past thanks to our new friend COVID.
The biggest change will be that you can now reserve your Midnight Shopping in advance! We are limiting our guests to 25 at a time through the holiday season. This allows customers to keep more space between shopping parties. When you book, you are booking a 30 minute time slot, if you want an hour, please book 2 spots. Each person in your party will need to book their own spot. When you log on to book your spot, you can book spots with Decorate, Homespun, Boomerang and Silver in the City. Each business will also have some available walk-in spots, but we highly recommend prebooking here: Midnight Shopper Prebooking!
At Silver in the City, if you don't have a reservation and we find ourselves at capacity, we will place you in a virtual queue and you will get notifications about when you are next in line to enter and once it is your turn to enter - yay technology!!
Also, we will be donating 10% of the days sales from in-stores and online to our dear friends at Second Helpings - they are working so hard to help feed hungry hoosiers and we hope to raise some $$$ for them on the 20th! Did you know they are hosting a virtual Tonic Ball this year? It looks to be pretty awesome with a lineup of one hit wonders! Check it our here!
Want an even bigger incentive to start and finish your holiday shopping on the 20th? For every $100 you spend before Thanksgiving, we'll give you $10 to spend in 2021 (hopefully the year that keeps on giving all good things).
We are super-excited to safely see you at this year's Midnight Shopper, but we also want to stay safe.  The best way to do that is to shop our website and choose curbside pickup or delivery (yes, delivery to Indy, Carmel, Zionsville, Westfield and Fishers this holiday season!!). You can also choose to pick up at our Curbside Sunday Event on Sunday, November 29th. It will be at the Art Bank parking lot and you'll be able to drive thru and pickup online purchases from participating Mass Ave stores (Boomerang, Homespun, Decorate, Crimson Tate) without leaving your car - win-win-win!
And, if you'd like to shop in-person, but not at the Midnight Shopper - you can book a shopping visit with us here and you won't have to wait in line to enter during busy times! Plus you'll get some handy reminders to come in for your visit!
Set a date to shop our Mass Ave store here!
Book a visit to our Carmel store here!
So, to summarize:
Book your Midnight Shopper time slot here.
10% of your purchase on 11/20 will go to Second Helpings.
Spend $100, get $10 in 2021.
Shop online and choose curbside, delivery or drive thru.
Book future shopping visits with us in Carmel and on Mass Ave.
Wear a mask (cover that nose Rudolph) and sanitize your hoofs.