Share your voice and support access to safe and legal abortion in Indiana!
Pinch me, this is a nightmare, yeah?  Oh no friend, this is happening in our statehouse.  As of today, the current draft of Indiana's GOP bill to ban abortion in Indiana states that abortion is banned FROM CONCEPTION.  Daaaammmmmn.  Way to ruin the mood GOP.

I know you're all fired up, I see you at the rallies and block parties, making speeches and spreading the word via social media...  thank you for showing up and standing up for reproductive rights in Indiana.


As the special session is preparing to begin, here are a few ways you can add your voice, and also ask others to lend their voices to various letters of support for choice.
First stop is the ACLU's Abortion Access Indiana action page: Advocate, Rally, Support, Share - this is our top spot for current Action items and links!

The ACLU Business Letter of Support - ask your favorite Indiana businesses (maybe the one you work at?) if they would consider signing onto this letter which will be shared with legislators throughout the special session by our friends at the ACLU of Indiana. Those who sign on will get one of the window clings as shown above! You can see a full page ad of supporters in the July 21 edition of the Indy Star.
The Women4Change Not for Profit Letter of Support - not for profits are a huge part of Indiana's workforce. Are you on a board? A big supporter? A volunteer? A donor?  Consider asking the not for profits you are connected to to sign on!
The Indiana Employee Letter of Support - maybe your business takes an apolitical approach, you can still voice your support for Reproductive Freedom as a Hoosier worker.
Then mark your calendars for the Rally at the Statehouse, Monday July 25 12-1p.  If you have only one hour to give - this is the hour of need!  Let's overwhelm the statehouse and surrounding lawns with our presence and support for safe and legal abortion in Indiana!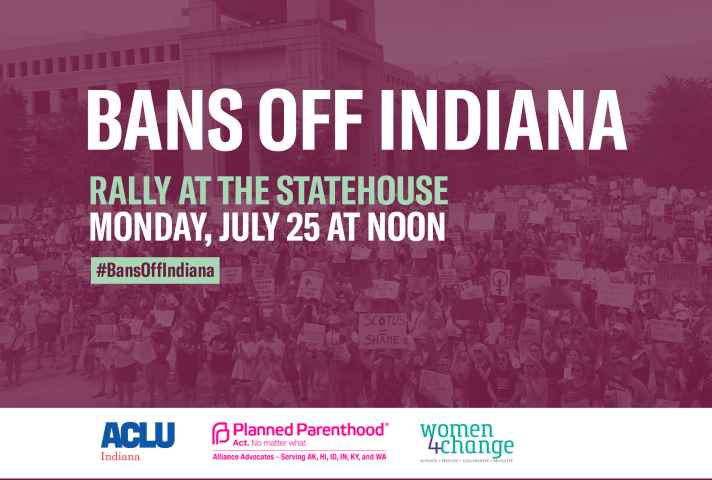 Continue to support the organizations doing the work in Indiana: